Edward J. Robin, 80, L.A.-based fighter for Soviet Jewry, dies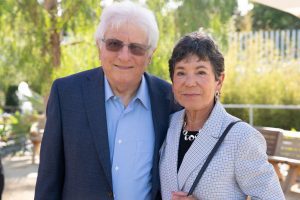 By Justin Jampol
Ed Robin, who fought tirelessly to free Jews from the former Soviet Union, died Oct. 8 in
Los Angeles at the age of 80.
Ed, born Dec. 20, 1941 in Charleston, South Carolina, moved to Los Angeles with his
wife Peggy in 1966. While working as an attorney, he became involved in the movement
to free Soviet Jews in the early 1980s, when Jewish emigration from the Soviet Union
had plummeted to 1,200 émigrés from 50,000 in 1979.
Ed and Peggy threw themselves into the movement, meeting world leaders, traveling to
Moscow to assist refuseniks and organizing rallies. Ed co-chaired the historic Freedom
Rally for Soviet Jewry on Dec. 6, 1987 in Washington, D.C., that drew 250,000 people.
"It's the greatest endeavor we were ever involved in," he later said.
I first met Ed more than a decade ago when the Wende Museum, which I founded in
2002, was producing a documentary, From Red State to Golden State, about the
experiences of Soviet Jewish political refugees who settled in Southern California in the
1970s and 1980s. Ed was featured as a historical witness to the movement.
Ed's stories about the politics and strategy of the chess game he and others played with
the Soviets captivated me. He would never admit it, but Ed was a historical figure whose
deft and even-handed disposition underscored an incredible intellect. He could
immediately recall the different factions and behind-the-scenes struggles of a
complicated tapestry of organizations and individuals. As a natural diplomat, he was
able to make this fractious coalition work.
Ed joined the Wende Museum's board of directors and became a mentor to me. He was
the heart and the soul of the Wende's initiative to preserve the archives related to Soviet
Jewry, co-founding, along with Peggy, The Robin Center for Russian-speaking Jewry.
Because of his encouragement, support, and his worldwide network, the project
safeguarded tens of thousands of rare documents, and produced a series of workshops
to teach young people what Soviet Jews had to do to communicate with each other,
using underground "Samizdat" newsletters and pamphlets.
"We all did what we could," Ed said at the opening of an exhibition dedicated to the
American photographer Bill Aron, whose gripping images of Soviet Jewry lent an
emotional impact to the movement.  "The focus was always on those who needed the
help. And while the coalition of American advocates were essential in lending support to
free Soviet Jews, the story is not about us. It is about them – those who risked
everything to have what we have. It is our duty and responsibility to remember their
story."
Ed, who passed away following a bout with cancer, is survived by Peggy, his son Rich,
daughter Jill, and 11 grandchildren.
Justin Jampol is founder and executive director of The Wende Museum in Culver City,
California.