Topping Out Ceremony Marks Milestone for the Wende Museum's Glorya Kaufman Creative Community Center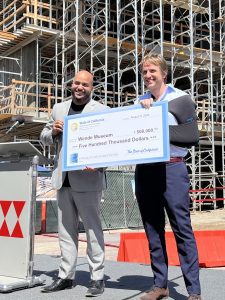 Culver City, CA., Aug. 8, 2023 – AUX Architecture, Shawmut Design and Construction, and The Wende Museum are thrilled to announce that the ceremonial topping out of the Glorya Kaufman Creative Community Center, marking the placement of the final beam and the completion of the structure's frame, took place on August 5, 2023.
A resource which will be shared by several Culver City-based nonprofit organizations including the Mayme A. Clayton Library and Museum, United States Veterans' Artist Alliance, Upward Bound House, and the Artistic Freedom Initiative, this unique center is a fusion of cultural and educational programming.
The design by AUX Architecture includes a 7,000-square-foot multi-purpose space that accommodates cultural, educational, and social services. The center will feature a live performance theater, a demonstration garden, art spaces, and a space for Culver City Unified School District students.This innovative proposal was inspired by the vision of Glorya Kaufman, a legendary patron of the performing arts, whose foundation is funding the project.
During the topping off event, attendees including city officials, Glorya Kaufman, local community members, and the project teams watched the final, 42nd piece of structural steel lifted and placed on the 36-foot tall structure by a 90-foot crane. Additionally, State Assembly Majority Leader Isaac Bryan was on hand to announce that the State of California was giving the project $500,000 to support plans to build affordable housing for artists.
The Wende Museum's Executive Director Justin Jampol says that, "Only a few years ago, this was an abandoned community space with good bones, but without the vision or capacity required to transform it into something better. That all changed the moment when Glorya Kaufman saw the 'diamond in the rough' next door. For her, this was a space to be reimagined, and brought back to life for the benefit of all. That moment changed the story of the Wende forever. We are now on the verge of introducing this new community resource to the world."
Community programs will be provided free of charge, facilitated by the generous support of the Glorya Kaufman Foundation. Kaufman's philanthropic efforts have revitalized communities across Southern California, bolstering institutions like Inner-City Arts, Mar Vista Family Center, and Vista del Mar Child and Family Services, and fostering future dance artists through the USC Kaufman School of Dance.
The Glorya Kaufman Creative Community Center is expected to open its doors to the community in early 2024, creating a vibrant hub for creativity, culture, and connection.
To explore additional photos and renderings, click here.
Additional Quotes:
"The topping off is not only a celebratory milestone in the construction process, but a point of connection to the community through tradition," said Greg Skalaski, executive vice president of Shawmut's West region. "Placing the final beam on the Glorya Kaufman Creative Community Center at the Wende Museum alongside city officials, community members, and project partners embodied the mission of the center—connecting the community through cultural, educational, and social programs and resources."
"With my grandchild and great-grandchildren residing in Culver City, my partnership with the Wende Museum is as personal as it is philanthropic," shared philanthropist Glorya Kaufman. "I am honored to help bring to life an innovative vision for much-needed community space to benefit diverse audiences through a broad array of artistic programs and cultural learning opportunities for all ages."
ABOUT AUX ARCHITECTURE 
AUX Architecture creates spaces that feel good. Led by Brian Wickersham, the Los Angeles-based practice brings craft and clarity to designs at every scale—from hearth to urban realm. Collaboration is the soul of the studio. AUX's team of architects and designers works closely with clients to produce sophisticated environments ranging from single and multifamily residential homes to commercial and cultural buildings. Functionality, sustainability, and beautiful materials are hallmarks of the practice's skillful architecture. Each process-focused project combines passion with technical expertise. AUX's international portfolio has received multiple awards from the AIA Los Angeles and AIA San Fernando Valley, and has been featured in Dwell, Flaunt, Los Angeles Times, and The Plan. Social media: @auxarchitecture
ABOUT SHAWMUT DESIGN AND CONSTRUCTION
Shawmut Design and Construction is a $1.3 billion national construction management firm with a reputation for completing extremely complex and logistically challenging projects for the most high- profile clients in the industry. As a 100% employee-owned company, Shawmut has created a culture of ownership, proactive solution-making, and forward-thinking. Over eighty percent of its business comes from repeat clients, proving there is a strong focus on building lasting partnerships. Shawmut has offices in Los Angeles, Las Vegas, Irvine, CA, New York, Boston, Miami, and West Palm Beach. For more information, please visit www.shawmut.com.
ABOUT THE WENDE MUSEUM
The Wende is an art museum, cultural center, and archive of the Cold War that explores social, political, and cultural change. Founded in 2002, the Wende holds an unparalleled collection of art and artifacts from the Eastern Bloc and promotes a multi-layered exploration and discussion of the period. Named for the German word meaning "transformation" that describes the era leading up to and following the fall of the Berlin Wall, the museum serves as a foundation for dynamic programming that illuminates the political and cultural changes of the past and sparks personal and social changes for the future. The Wende Museum is open Fridays, Saturdays, and Sundays from 10 a.m. – 5 p.m. Admission is free. For more information, visit wendemuseum.org or follow the Wende on social media: @wendemuseum.